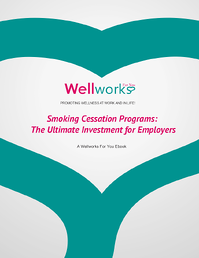 Businesses today are feeling the pinch when it comes to paying for employee healthcare. Employers have to absorb the costs of absenteeism due to illness and suffer the consequences of inefficiency and unproductivity that can often be the result of their staff's poor health.
Luckily, there is a solution that can help. And it's not just any solution...it's one of the most cost-effective ones available! Learn all about this solution when you fill out the form on the right to receive a FREE download of our ebook, Smoking Cessation Programs: The Ultimate Investment for Employers.
Simply fill Out the Form to the Right to Get Your Free Copy.
A well-designed, properly supported smoking cessation program can accomplish the following:

The cost of care is rising and companies like yours are paying the price. Don't get caught with the financial burden when a solution is ready and waiting. Download this complimentary resource and discover how a smoking cessation program can save you money in the long run!