Wellworks For You is motivated to keep you, your employees, and your families healthy through modified lifestyle changes involving diet & exercise. National Nutrition Month brings us the perfect opportunity to offer you a Recipe eBook & Food Journal for all tastes.

According to fitness.gov: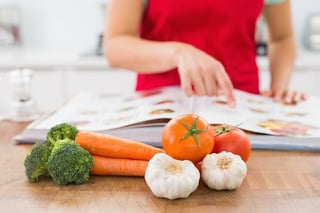 Less than 5% of adults participate in 30 minutes of fitness per day

90% of Americans eat more than the recommended daily portion for sodium

Food-borne illnesses cause 48 million illnesses and 3,000 deaths per year

Since the 1970's, the amount of fast-food restaurants have doubled
The decline in health of the American people can be attributed in part to poor diet and a lack of direction on what constitutes a good diet. Here at Wellworks For You, we strive to do everything we can to provide you with easy access to information on how to live a healthier, fuller life.
If you would like to download our Recipe eBook and Bonus Food JournalBonus Food Journal, just fill out the form on the right.

Our Recipe eBook and Food Journal will:
Teach you about various food preferences such as paleo, vegan, gluten-free, and more

Show you how to create easy, delicious recipes, no culinary training required

Keep you accountable of what you're eating
Here at Wellworks For You, you can find the personal nutrition experts you've been looking for.
Give us a call today at 800-425-4657
.